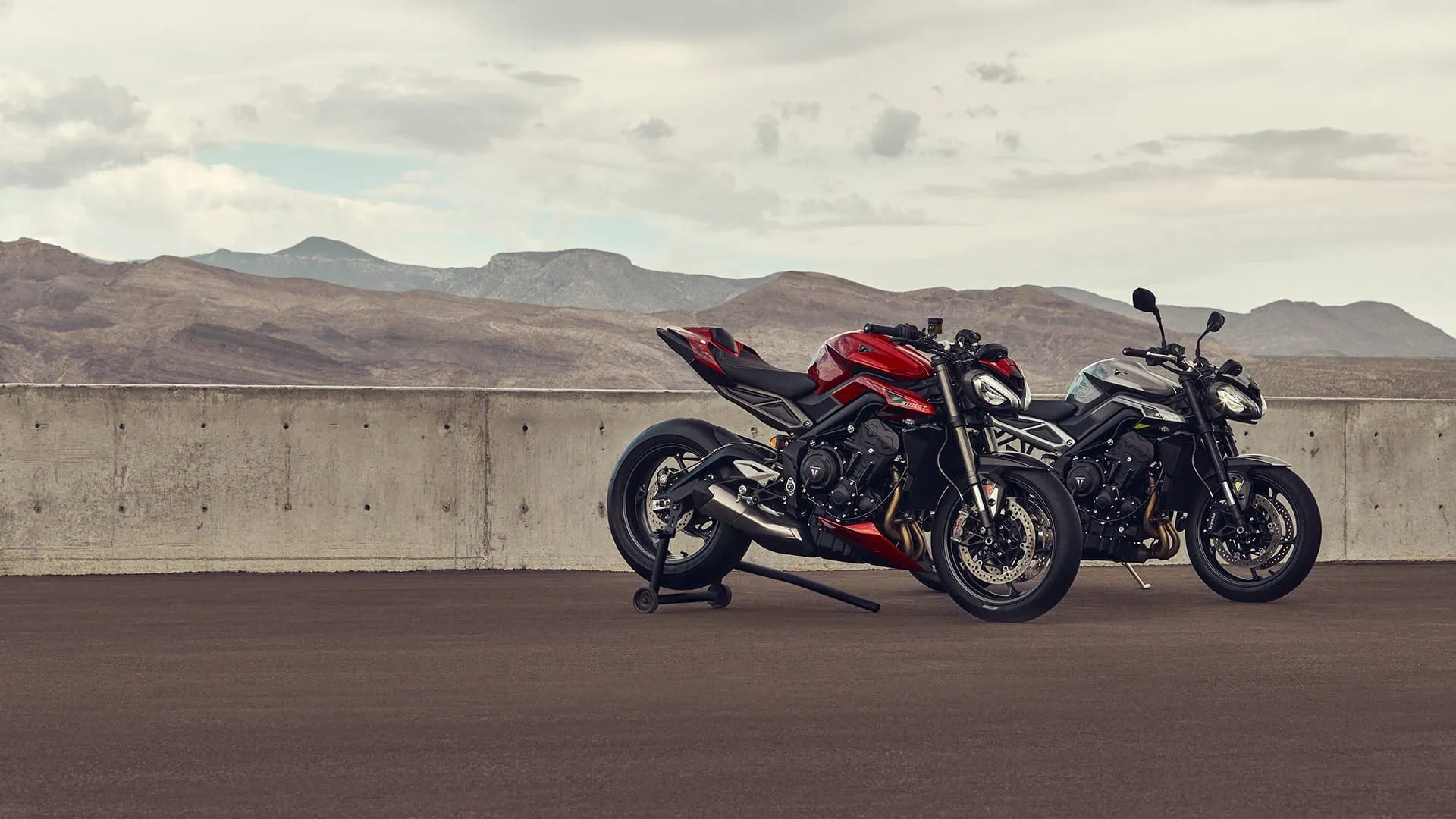 Choose from a wide range of genuine Triumph accessories to personalise your Street Triple. Whether you're looking to make your Street Triple stand out from the crowd, improve long ride capability and comfort, add even more rider-focused technology, or simply want to protect your new machine from accidental damage, there's something for every type of Street Triple rider. There are a few examples of how you can make the best Street Triple even better below.
Head to the bike configuration page to find out how to select and order accessories for your Street Triple.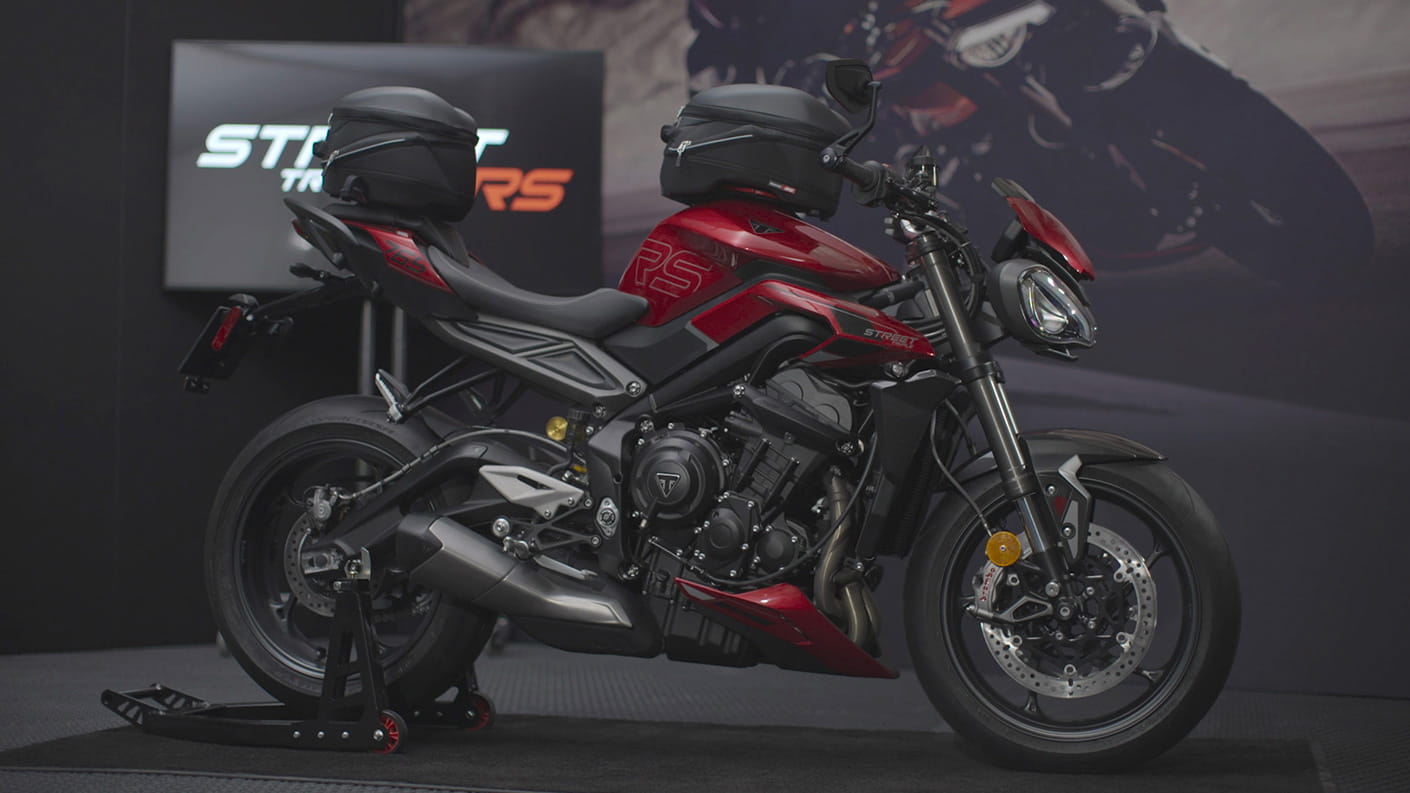 TECHNOLOGY
Already packed with innovation, the latest generation Street Triple has few boxes left to tick when it comes to technology.
New cruise control is the perfect add-on for riders who spend a lot of time on motorways and/or ride through speed-enforced areas. Maintaining a pre-set speed improves fuel economy and reduces fatigue by giving the right hand more freedom to flex on long journeys.
To fully exploit the Bluetooth capability of the 5" TFT screen, a module is available for full My Triumph connectivity. This enables phone and music operation and offers turn-by-turn navigation.
Scrolling LED indicators combine style with technology and offer personalisation as well as further enhancing visibility to other road users.
Cruise control
My Triumph Bluetooth module
Scrolling LED Indicators
PROTECTION & COMFORT
Keeping your new Street Triple safe from harm, frame and swing arm protectors complement those distinctive and aggressive lines, while engine cover protectors, made to blend in perfectly, offer subtle yet effective damage mitigation in the event of a drop.
An elegant fly screen is available to reduce windblast and improve long-range comfort while all-weather riders can enjoy winter commutes with warm hands and uncluttered, wire-free handlebars with the internally-wired heated grips. Grab rails are also available for added pillion comfort and safety.
Paddock stand bobbins add convenience for routine maintenance tasks and a top quality Triumph-branded cover will ensure your bike remains immaculate and ready for the next ride.
Frame protectors
Swing arm protectors
Engine cover protectors
Heated grips
Pillion grab rails
Paddock stand bobbins
Triumph branded bike cover
Fly screen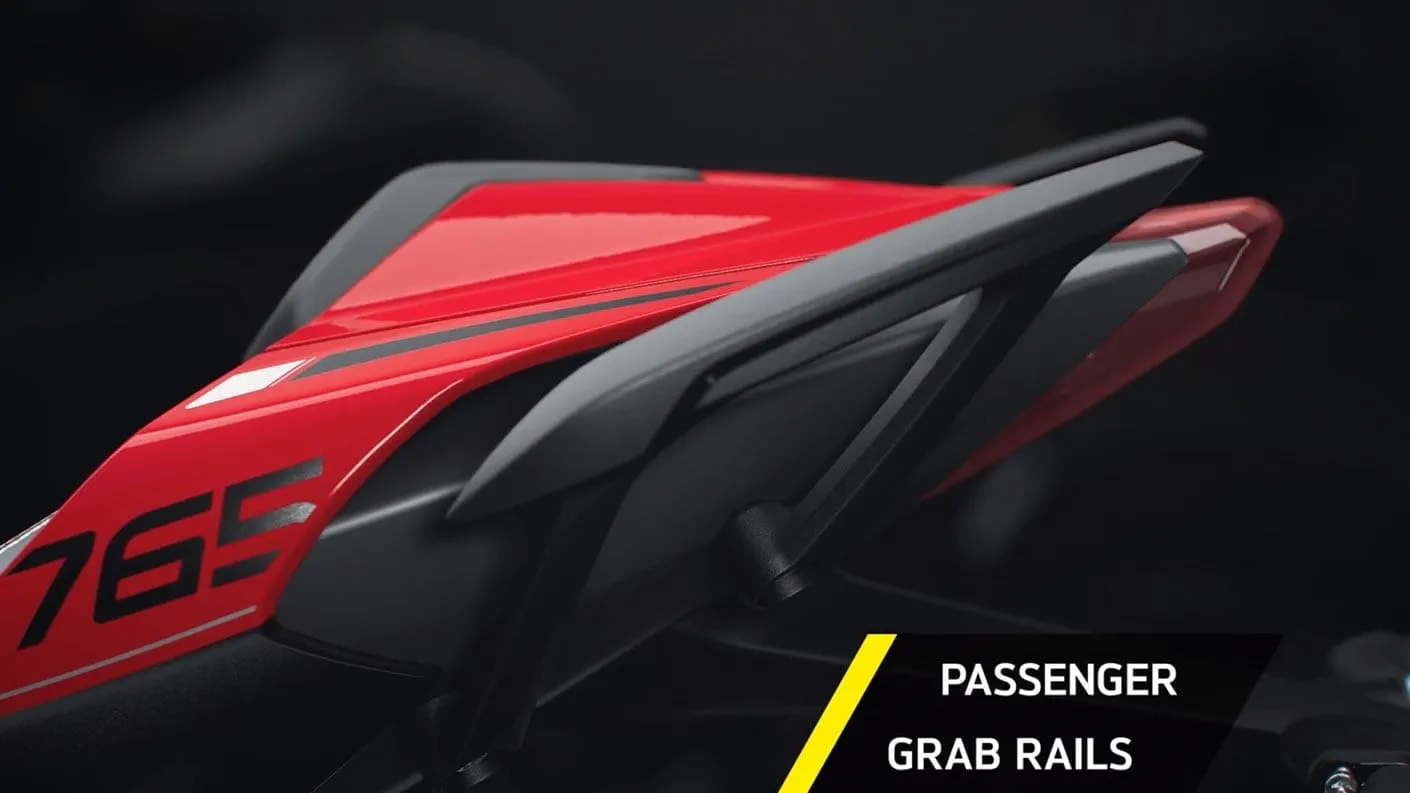 STYLE & DETAILING
While the Street Triple is unequivocally a beautiful motorcycle, with so many different styling parts available, personalising and making your Street Triple really your Street Triple has never been easier.
Highlights include a tail tidy and a clear LED rear light assembly for a cleaner back end. Smaller, but no less important, details are taken care of too with exquisitely machined parts such as the brake fluid reservoir.
Tail tidy
Clear LED rear light assembly
Machined brake fluid reservoir
LUGGAGE
The Street Triple's fun and dynamic character makes every ride a joy, from long leisure rides to all-weather work commutes. Adding to its versatility, a stylish water-resistant accessory tank bag and tail pack can be quickly detached from the bike for ease of use and day-to-day practicality.
STREET TRIPLE 765
A major step-up in performance, capability, and technology, to match its legendary triple powered character – this is the new definitive streetfighter.
Price From ₹ 10,17,000.00