SPEED 400 ACCESSORIES
MAKE IT YOURS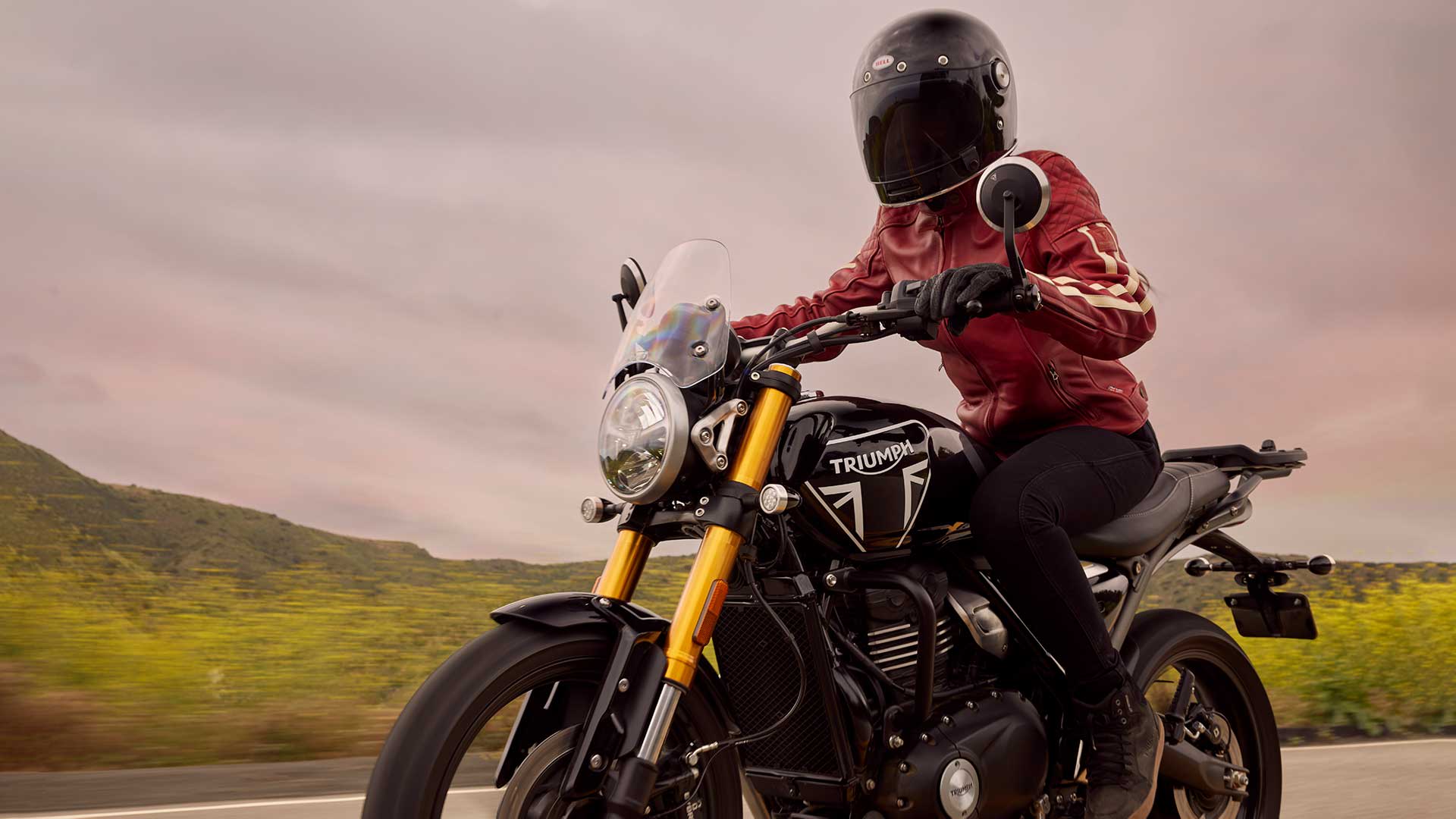 A selection of more than 25 Triumph Genuine accessories are available, adding even more versatility and style to the Speed 400. Designed by the same engineers that created the Speed 400, and with the same two-year unlimited mileage warranty, you can rest assured that each part will fit and suit your new Speed 400 perfectly.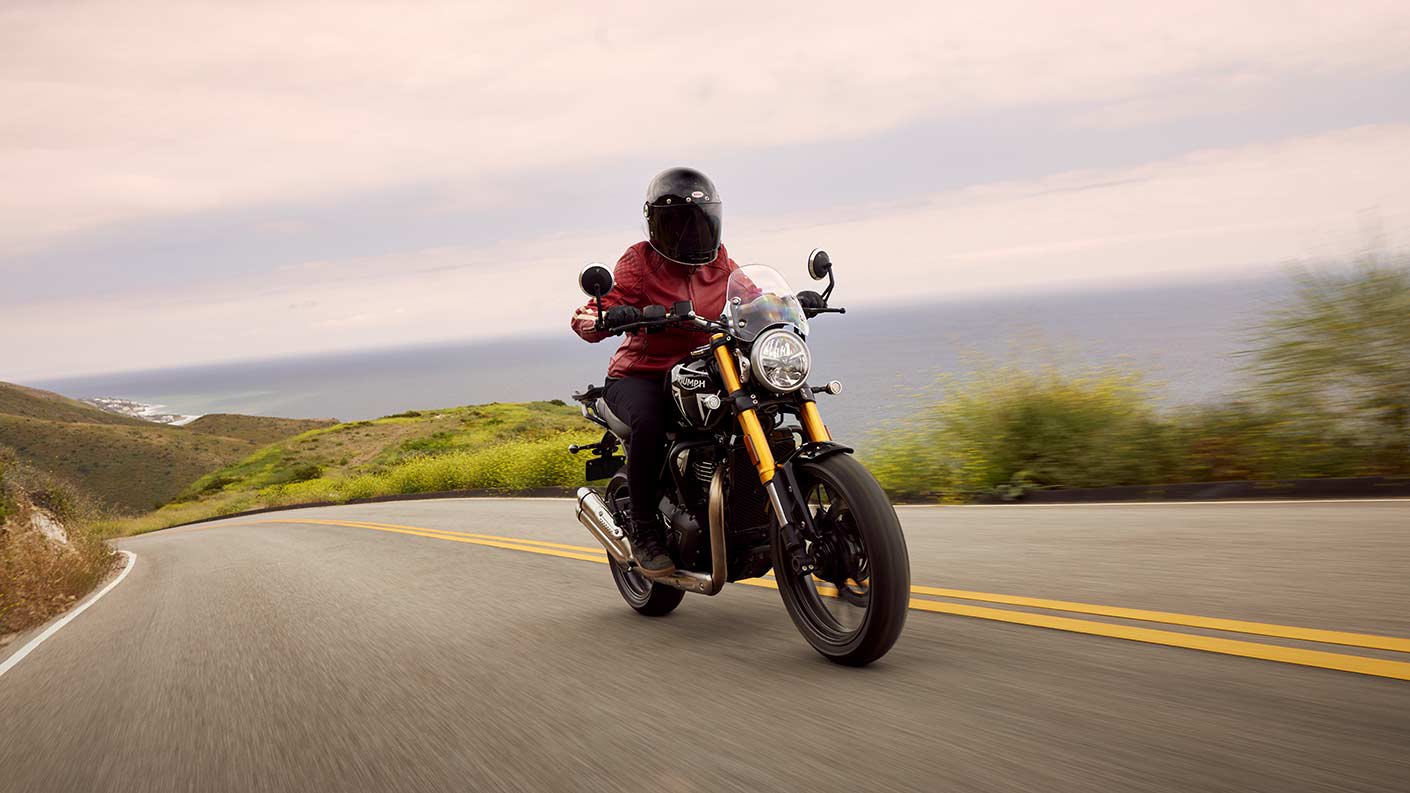 Style and comfort
Choose from a range of parts that will make your Speed 400 just how you want it. Direct replacement bullet indicators give a subtle new look and a touch of class with their satin black bodies and machined aluminium bezels. Or maybe you want to restyle the tank with different kneepads? A quilted seat with a stitched finish makes a statement and brings a little luxury to longer rides.
A twin silencer is yet another styling option, bringing a fresh new look with a familiar soundtrack.
LED Bullet indicators
Knee Pads
Quilted Seat
Twin Silencer
LUGGAGE
A full range of Speed 400-specific luggage has been created to add a little practicality to the fun. The perfect bike for commuting with touring capability, equipping the Speed 400 to cope with your cargo really couldn't be easier. Choose from rugged pannier or rigid and semi-rigid top boxes, each with their own bespoke mounting system or, for those who prefer to travel light, a simple luggage rack, nylon tank or roll bag could be the perfect option.
Rugged Pannier
Rigid and Semi-Rigid Top Boxes
Luggage Rack
Nylon Tank Bag
Nylon Roll Bag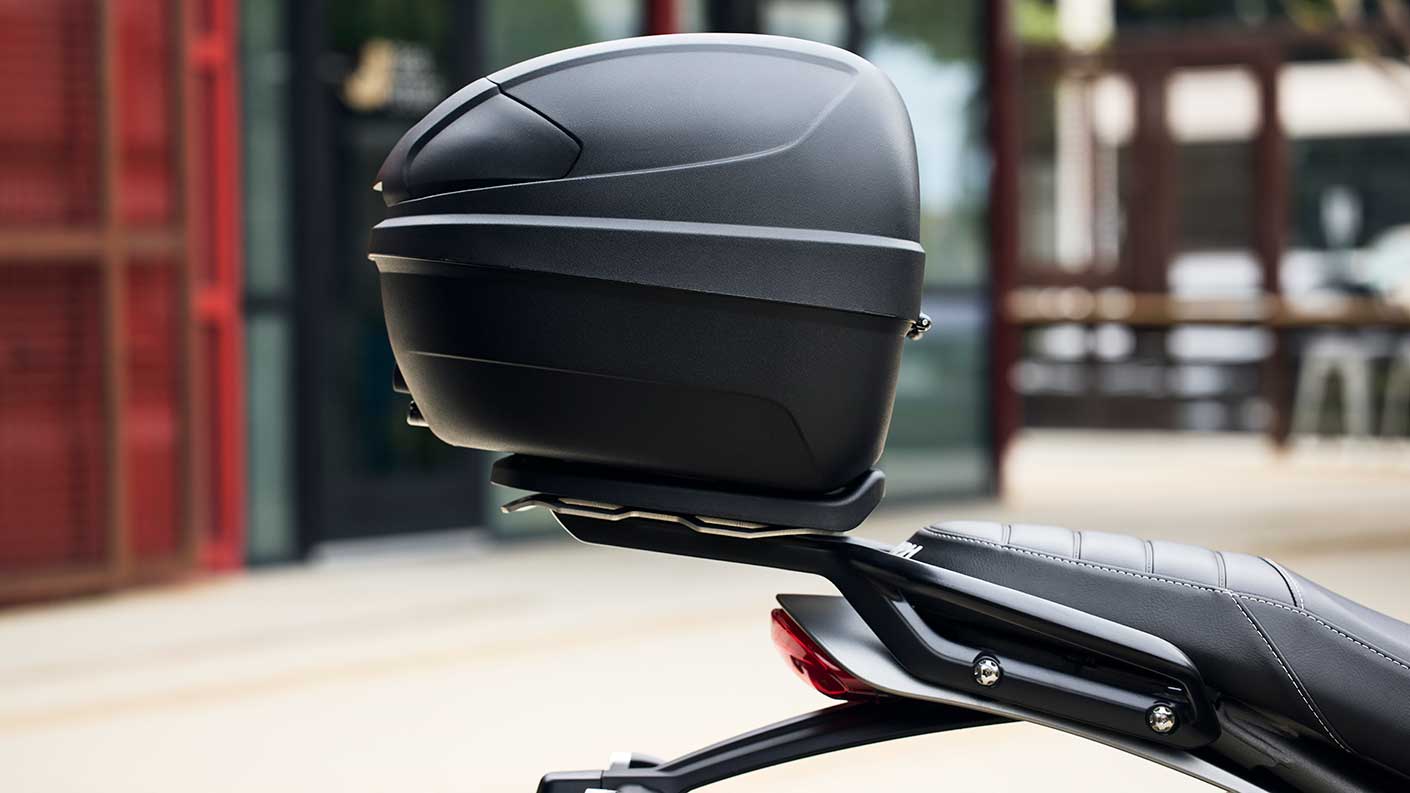 PROTECTION
Keeping you and your Speed 400 protected from the elements is well taken care of. A screen with a dedicated fitting kit is available to deflect the wind to reduce rider fatigue on longer rides. Easy to fit, and styled to suit, this is a must-have addition for distance riders.
To keep the Speed 400 out of harm's way on rougher roads, an aluminium sump guard, radiator guard and a headlight grille, that comes with its own bezel for easy fitment, all offer excellent protection from stone chips and debris. All-weather riders might wish to add the mud splash kit that consists of front and rear mudguard extenders and a rear hugger. These combine beautifully to protect from water spray and to prolong the life of the rear shock absorber in extreme conditions.
Upper and lower engine bars are also available — these provide superb protection against drops and spills, an essential add-on for the city rider.
Windscreen
Radiator Guard
Headlight Grille and Bezel
Aluminium Sump Guard
Mud Splash Kit
Upper and Lower Engine Bars
AVAILABLE ACCESSORIES
SEMI RIGID TOP BOX: Triumph's 30-35 litre capacity, Semi Rigid Top Box, has a 5kg payload and plenty of room to accommodate one full face helmet. Having a reinforced base with twin zips (expandable to the full 35 litre capacity), and a quick release mounting mechanism, the Triumph Semi Rigid Top Box is the perfect commuting and touring companion. Note: top box requires a luggage rack for fitment.
ROLL BAG: Triumph's branded Roll Bag is fully waterproof, having a reinforced base, roll-top seal and welded seams, ensuring your content stays dry. The roll bag features a dual purpose compression strap, carry handles, and has an impressive 30 litre capacity and 3kg payload.
RUGGED PANNIER MOUNT: The Triumph 20 litre capacity single left hand mounted rugged pannier, is made from modern materials with contemporary, rugged styling. Includes a key lockable mounting system for extra security. Black steel mounting rail included. 5kg payload.
NYLON TANK BAG: Triumph branded, modern, strap mounted Tank Bag. With an 8.5 litre capacity, there is also the space to hold a mobile phone up to 153x82mm with touch screen functionality. 3kg payload.
SILENCER: A stainless steel twin silencer with Scrambler style inspiration has Triumph branding and includes a replacement heatshield.
BAR END MIRRORS: A pair of Bar End Mirrors constructed from cast and machined aluminium with a black anodised finish. They feature contrast cut machined detailing, and laser etched Triumph symbol branding.
QUILTED SEAT: The stylish quilted seat gives extra elegance thanks to bespoke stitching and pattern detail. A Triumph embroidered logo on the rear of the seat, and contrasting vinyl all adds to the striking design allowing owners to further customise their ride.
SCREEN FITTING KIT: Fitting kit required to install flyscreen.
COATED SCREEN: The polycarbonate flyscreen is injection moulded and hard coated for durability and optical clarity and offers increased wind protection. The screen requires the specific mounting kit (dependent on model)
FRONT PLATE FITTING KIT: Fitting kit required to install front number plate when accessory screen is fitted. (IN market only)
RADIATOR GUARD: Black painted steel mesh grille for enhanced radiator protection. Designed to blend seamlessly into the styling of the bike but still offer further protection from the road elements.
MUD SPLASH PROTECTION KIT: BAL market only kit for enhanced rider protection from mud splash
LUGGAGE RACK: The contemporary styled, aluminium luggage rack and grab handles offer the opportunity to carry your essentials, and also give your pillion rider added comfort. Maximum payload of 5kg.
UPPER ENGINE BARS: The Triumph upper engine bars are made from tubular mild steel and come in a classy black textured finish. They offer additional protection in the event of a fall as well as compliment the styling of the bike. They can be mounted individually or in conjunction with the lower bars.
LOWER ENGINE BARS: The Triumph lower engine bars are constructed using tubular mild steel and come in a classy black textured finish. They offer additional protection in the event of a fall and compliment the overall styling. They can be mounted individually or with the upper bars.
SUMP GUARD: The aluminium Sump Guard offers additional protection to the engine sump. With a brushed silver finish, the lower section is pressed with laser cut sides. Supplied complete with all additional mountings and hardware.
KNEE PADS: A durable, self-adhesive rubber knee pad which offers additonal protection to the side of the tank from scuffs and scratches, increasing rider comfort and grip. With Scrambler inspired styling and featuring embossed Triumph logo detail and a textured black finish.
TANK PAD: A self-adhesive, durable rubber tank pad that protects the tank from zip scuffs and wear. Features Triumph branding and complements the lines of the fuel tank.
TRACKER FITTING KIT: A Thatcham approved 24/7 tracking device, which when triggered, by unauthorised movement or tampering, alerts via an external GPS transceiver so you know the location of your bike at all times. Annual subscription required for full functionality.
HEADLIGHT GRILLE AND BEZEL: The durable moulded headlight grille has stylish Triumph design, a black textured finish and can also be mounted in conjunction with the flyscreen kit. Complies with headlight regulations.
BULLET LED INDICATORS, FRONT: The piano black moulded body with turned aluminium bezel incorporates 6 High Power LEDs which make signaling highly visible in a compact 40mm diameter body. Sold as a pair.
BULLET LED INDICATORS, REAR: The piano black moulded body with turned aluminium bezel incorporates 6 High Power LEDs which make signaling highly visible in a compact 40mm diameter body. Sold as a pair.
NEW SPEED 400
Born into a peerless bloodline, the Speed 400 has Triumph's unique Modern Classic roadster design in its DNA.
Ex Showroom ₹ 2,33,000.00