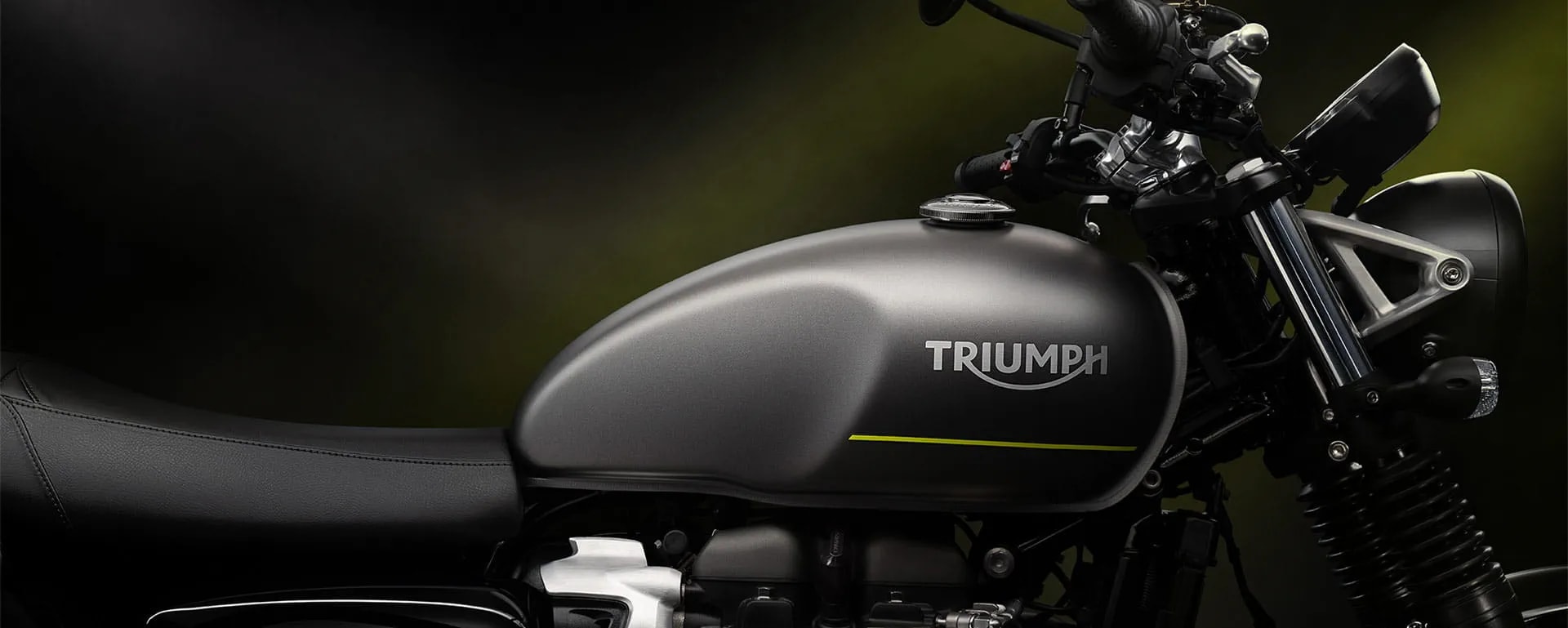 BONNEVILLE Speed Twin 900
REASONS TO RIDE
Contemporary, fun, and accessible, here are some of the key reasons why the Speed Twin 900 is Triumph's most successful custom classic bike
Powered by the latest generation of our High Torque 900cc Bonneville engine, updated for 2021, with its unique character, distinctive sound, stripped-back custom styling and accessible engaging riding experience. The Speed Twin 900 comes with even more beautiful style and comfort, making the perfect Bonneville for today's rider. It's Triumph's most successful custom classic bike and, as the updated Speed Twin 900 is launched, we take a look at why this iconic modern motorbike is so well loved, and what features for 2021 make this the greatest ever generation.
1. ICONIC TRIUMPH DESIGN DNA
The Speed Twin 900 contains the same iconic DNA as the first 1959 Triumph Bonneville, which came to encapsulate a whole generation of motorcycle culture, updated and refined for the 21st century with all of the modern capability and performance needed to match its incredible character and style.
With its signature classic Triumph design features, distinctive sound and timeless style, torque rich performance and easy handling set-up. The Speed Twin 900 builds upon this incredibly popular custom classic to make it more comfortable and beautiful than ever.
2. BEAUTIFUL PREMIUM DETAILING AND FINISH
Taking the incredible standard of design details and quality finish to an even higher level, the Speed Twin 900 features a host of design touches with cast wheels with machined spoke detailing, brushed aluminium headlight brackets, throttle body finishers, and a bench seat, this bike simply oozes cool British understated style.
3. THRILLING AND RESPONSIVE TORQUE RICH PERFORMANCE
The Speed Twin 900's 900cc, liquid-cooled twin Bonneville High Torque engine provides an incredible ride. It offers an impressive peak torque of 80Nm at a low 3,800rpm and peak power of 65 PS at 7,500 rpm, which delivers power and torque smoothly, just where you need it most, low down and in the mid-range.
Updated for Euro 5 with cleaner and lower emissions, the Speed Twin 900's responsive Ride By Wire throttle and easy action torque assist clutch, combined with the accessible low seat height and high specification equipment and technology, gives you a confidence inspiring, thrilling and responsive ride every time.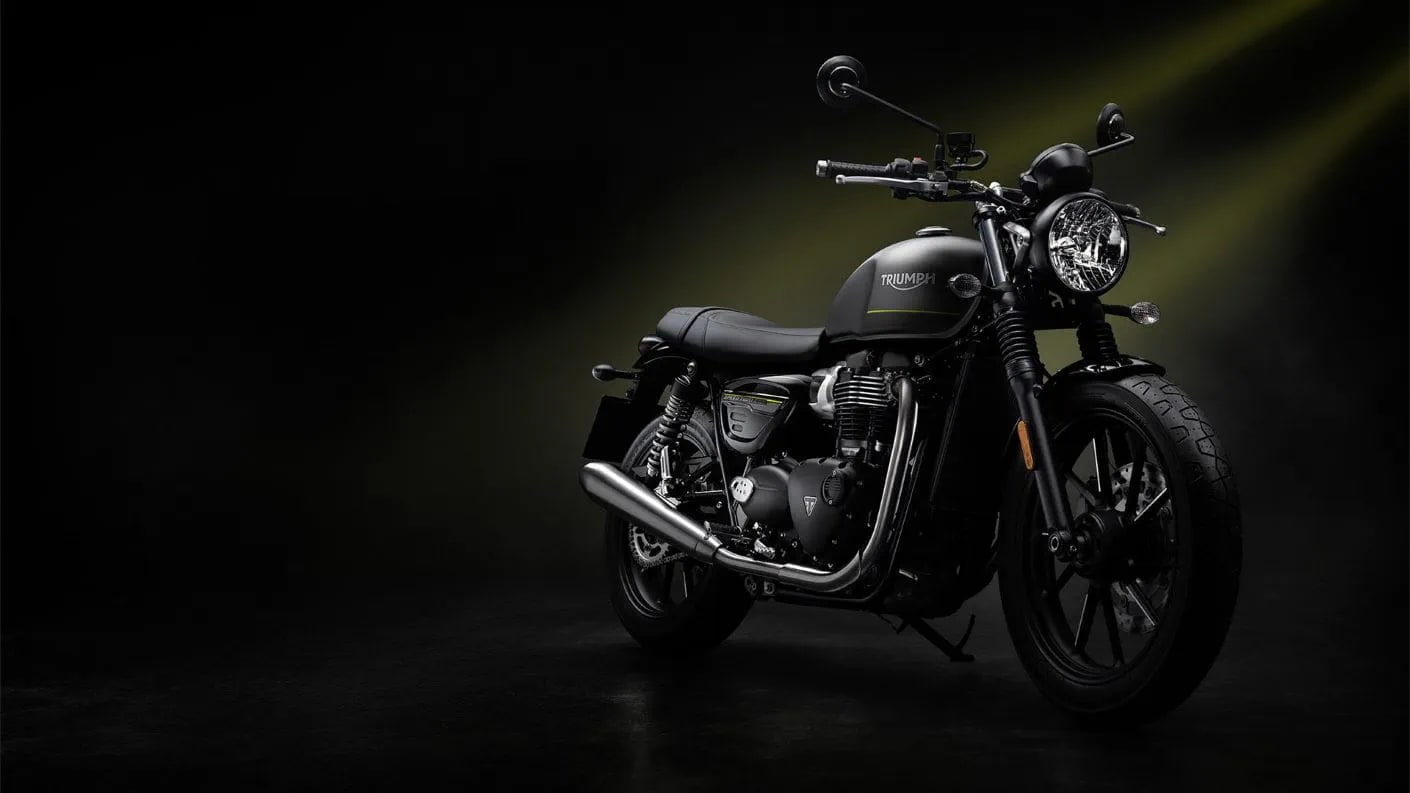 4. EVEN MORE COMFORTABLE AND CONFIDENCE INSPIRING RIDE
The Speed Twin 900 builds on its renowned confidence inspiring, easy riding set-up with a bench seat that has a 10mm thicker foam construction for an enhanced seat-to-foot-to-handlebar ergonomics, and making it even more comfortable whether you're travelling short or long distances.
With a low 765mm seat height, low stand over, slim width and high specification suspension, delivered by 41mm cartridge front forks with traditional stylish fork gaiters and twin rear suspension units, the Speed Twin 900 has been designed to be as easy to ride as it is beautiful to look at.


5. CLASS LEADING TECHNOLOGY FOR ENHANCED SAFETY AND CONTROL
There's more to the Speed Twin 900 than meets the eye, with a host of state of the art technology beautifully integrated to enhance the bike's rideability, safety and control. This includes Road and Rain riding modes, which adjust the throttle map and traction control settings at the touch of a button. Ride-by-wire offers a more intuitive level of control, while liquid cooling reduces emissions and offers a greater fuel efficiency. The Street Twin's capability is enhanced further still by Switchable Traction Control, ABS, a torque-assist clutch, an immobiliser hidden inside the key and its under seat USB charging socket. Accessory options include fitted heated grips and a Tyre Pressure Monitoring System (TPMS) for even more comfort and peace of mind. With a high service interval of 10,000 miles/16,000km the Street Twin delivers you great peace of mind and a low cost of ownership.


6. ICONIC TRIUMPH BRITISH TWIN SOUNDTRACK
With a totally unique and distinctive British Twin engine soundtrack, the Speed Twin 900 has an unmistakable rich and warm tone that you will fall in love with. Featuring an innovative design which hides the catalyst box under the motorcycle to deliver a clean slim flowing exhaust profile the Speed Twin 900 dual upswept brushed stainless steel silencers add the finishing touch to a stunning design and a hair raising sound.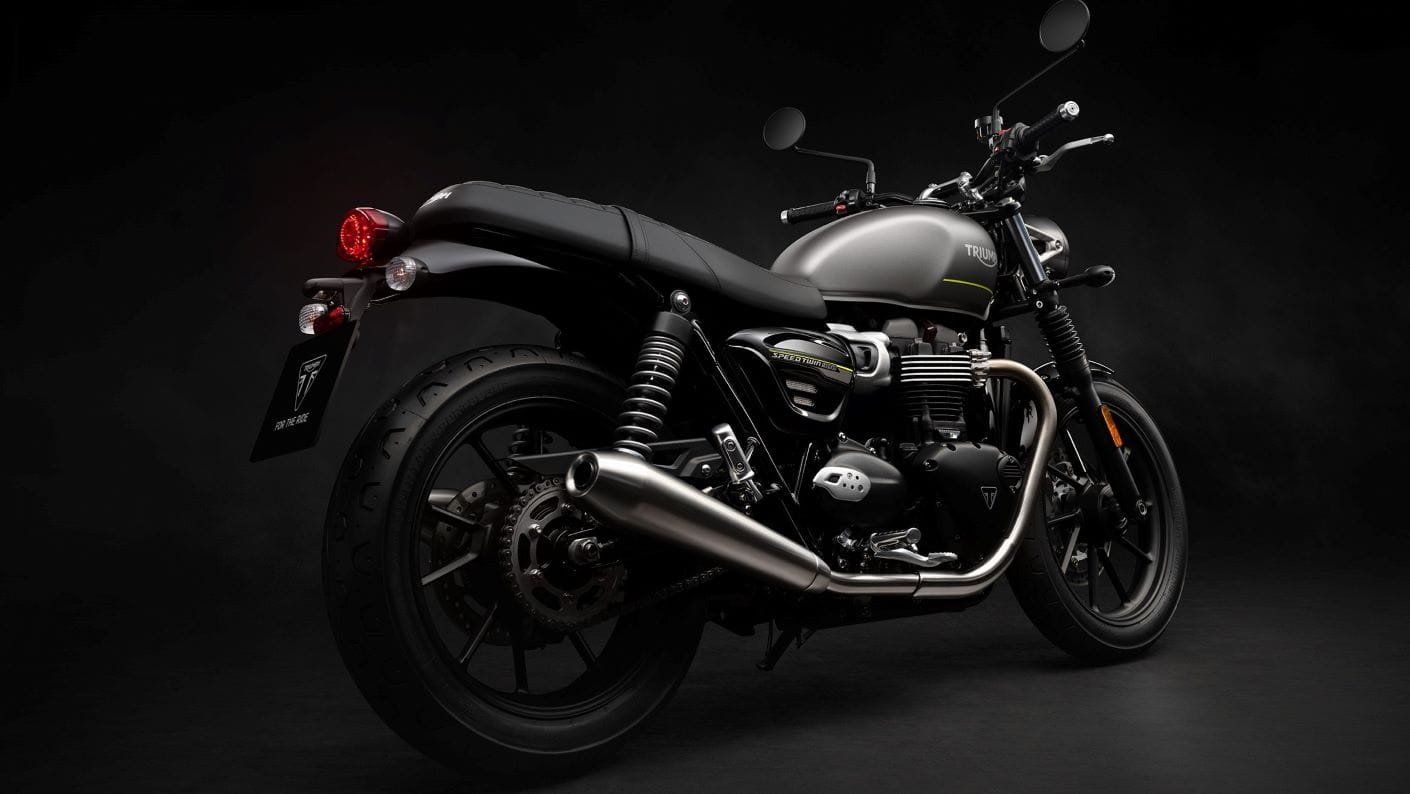 7. DESIGNED TO BE PERSONALISED WITH ALMOST LIMITLESS OPTIONS
There's never been a more customisable bike than the new Street Twin. With over 120 genuine Triumph accessories for you to add your own personal touch and even more performance and style. Options include a wide range of luggage, security options and bodywork, including an aluminium sump guard, fender eliminator and passenger grab rail.
Each accessory has been engineered and tested to the same high standards as the bike itself, so you'll know you're getting outstanding quality, every step of the way. We even offer a two-year unlimited mileage warranty so you can focus on enjoying the ride.


8. A2 LICENSE KIT FOR GREATER ACCESSIBILITY
By asking your dealer to fit the optional A2 license kit, including a new APS twist grip and new engine tune, you can own an icon even before you achieve your full motorcycle licence, and once you've passed, full power can be just as quickly and easily reinstated.
Designed with a low seat and stand over, plus ergonomics and a specification of technology, suspension, brakes and tyres all tuned for an accessible confidence inspiring ride, the Street Twin is the perfect choice for new riders as their first big bike.
The stylish and accessible Street Twin is Triumph's best-selling modern classic motorbike, and this new generation sets the standard at an even higher level. Experience for yourself all the capability, performance and easy handling style that this exceptional motorcycle can offer.
SPEED TWIN 900
The stylish and accessible Speed Twin 900 is Triumph's best-selling modern classic motorbike, and this new generation sets the standard at an even higher level. Experience for yourself all the capability, performance and easy handling style that this exceptional motorcycle can offer.

Price From ₹ 8,49,000.00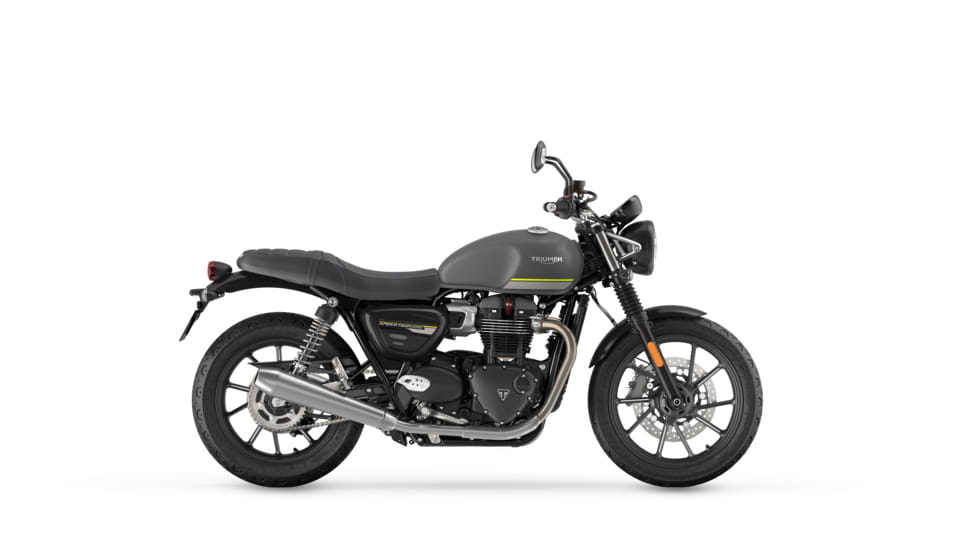 BRITISH ICONS. BEAUTIFULLY EVOLVED.
Our motorcycles are designed to bring the best out of all riders.
Enquire Now